Only the Lord can build the Church and fight hell, but he has placed the fundamental controls on our side. We're the ones who need to change to bring this whole thing about.
To do this, there are three 'R's that we need to follow: repentance, reading the Word, and reaching out to serve others outside of ourselves.
REPENT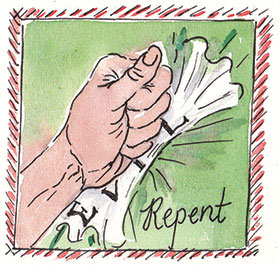 First and foremost, we need to repent. We need to lay aside evils and sins. We need to cooperate in filling every valley, bringing every mountain and hill low, making the crooked places straight and the rough ways smooth in ourselves before we'll be in a condition to see the salvation of the Lord. As we read in Matthew, the first words of John the Baptist's ministry were, "Repent for the kingdom of heaven is at hand." And the first words of the Lord's ministry were, "Repent for the kingdom of heaven is at hand." We have to deepen our repentance to prepare for the coming of the Lord.
READ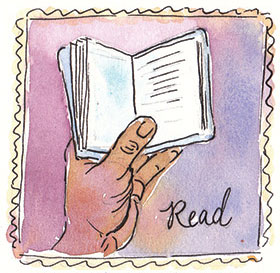 We also need to read and study the Lord's Revelation. We need to read the Writings of Emanuel Swedenborg in order to get a true lens through which to read scripture. And then we need to read and study the Old and New Testaments for ourselves and for the sake of this work. The Lord says again and again that we will see the Son of Man coming on the clouds of heaven with power and great glory when the Second Coming happens. The "Son of Man" means the Lord as to the Word. The "clouds of heaven" mean the Word's literal meaning. And "the power and great glory" mean the Word's inner meaning. It's all about the Word and our ability to see the Lord in it. The Writings make it perfectly clear that the Lord is coming in the pages of Scripture—and presumably not just in those particular words in it that Swedenborg had time to explain. The Lord is the Word, and He is coming in the entirety of it; it behooves us to study it all.
REACH OUT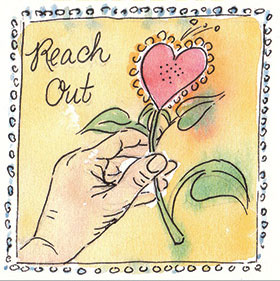 And we need to reach out and serve others outside of ourselves. If we increase our repentance and our study of the Word, the Lord will give us more compassion for others and more concern about their spiritual wellbeing. We need to get to know others and figure out how to love and serve them as best we possibly can. And these three 'R's are not arbitrary; they are what Jesus did and how He became the one God of heaven and earth. He is the way.
---
The Rev. Dr. Jonathan Rose is the series editor and a translator for the New Century Edition of the Theological Works of Emanuel Swedenborg. For more information: jsrose@digitalwave.com.