Several congregations broadcast their live worship services over the internet, so that you can watch live. Services are typically archived so that they can be viewed later as well.
The style of worship varies from congregation to congregation, so try each to see which appeals to you!
NewChurchLIVE

NewChurchLIVE is our internet-based church. Its worship services have newcomers in mind, and use a contemporary format. The service begins on Sundays at 10:30am Eastern Time (Philadelphia time)
Visit www.newchurchlive.tv
Bryn Athyn Church

The Bryn Athyn Church broadcasts several traditional-format services from the Bryn Athyn Cathedral: an Adult Service at 11:00am Sunday, and a Family Service at 9:30am Sunday. Both times are in the Eastern Timezone (Philadelphia)
Visit www.ustream.tv/channel/brynathynservice
New Church of Boulder Valley

New Church of Boulder Valley broadcasts a contemporary style service with a children's talk followed by an adult talk. The service begins on Sundays at 10:30am Mountain Time (Denver).
Visit www.bouldernewchurch.org
Kempton New Church

Kempton New Church live-streams services each Sunday at 10:00 AM Eastern Time and about once a month Sunday Evening at 7:00 PM.
Visit www.kemptonnewchurch.org
The New Church at Boynton Beach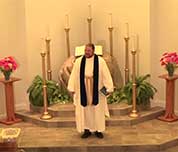 The New Church at Boynton Beach, FL live-streams a service consisting of an interactive children's talk (printable Sunday school sheets also available) and an inspirational adult talk every Sunday morning at 10am (EST).
Visit their YouTube channel to watch at www.youtube.com/channel/UClP4tp6OsF-xe7cnmgr8PDg